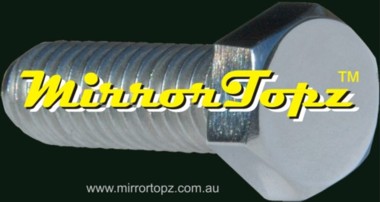 Mirror Topz polished 316 stainless steel bolts have that deep lusture that you can see your face in. Ideal to go with high quality polished parts. Perfect for your bike, motorcycle, Hot Rod, Street Machine, Restored car, or boat. Gives your engine that completely chromed look when you use with other highly polished parts, for example aluminium inlet manifolds, timing covers, water necks, water pumps, etc. When you assemble your highly polished engine parts with Mirror Topz they will tend to blend in with their surroundings so you notice the bolts less and can admire the engine finish.
Mirror Topz is our Premium range of polished stainless steel bolts processed to suit the tastes of those who want the best. All MirrorTopz are 316 stainless steel bolts. Even when your pride and joy needs another paint job, it won't need new polished bolts if you have installed Mirror Topz premium polished stainless steel bolts.
If your polished parts are not to a high reflective mirror type polished then check out our Kustom Bitz standard range as they may better suit in that instance. The KustomBitz standard range is brighter than chome but because they are not machined to a mirror finish like our Mirror Topz, they complement parts that are bright but not mirrored. So choose wisely it all depends on the look and effect you want. Typically our opinion is that you do not want the bolts to look better than the polished part they are holding on. If it is a painted part either will look great.
Mirror Topz bolts fitted to big block Chevy stainless headers, MirrorTopz nylock nuts used to assemble a quick change rear end, MT nuts and bolts used on polished stainless steel exhaust system flanges and our custom stainless thin nylock nuts on the rear hair pin radius rods with our new chromed head high tensile Mirror Topz bolts for suspension components. Click on the photos below to see larger.
Sub Categories